from cnn.com
Apple's stock bubble continued to deflate Thursday.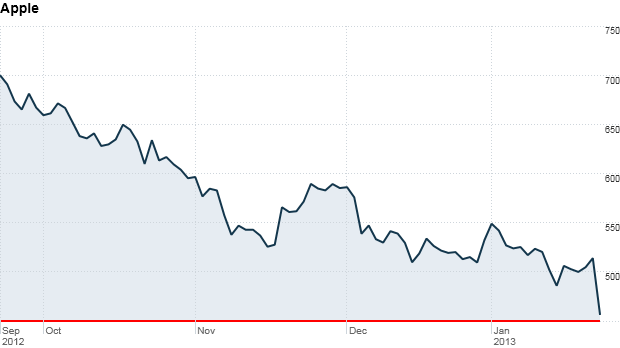 TIMBERRRRR!!!!
Shares of Apple (AAPL, Fortune 500) plunged more than 10% in early trading, as investors grew skeptical about the iPhone maker's growth prospects. Despite reporting a record quarterly profit, Apple's forecasts showed signs of slowing consumer demand for its products, particularly its iPhones.
Apple's stock has been on a steady decline for months. In fact, shares have plunged more than 35% from their all-time intraday high of $705, reached Sept. 21, 2012.
Since then, Apple's stock has dropped in value by nearly $230 billion, with its valuation slipping to $430 billion in just four months.
Almost exactly one year ago, Apple nudged out Exxon Mobil (XOM, Fortune 500) to become the most valuable publicly traded company in the world.
While it still holds the top spot, Apple's recent sell-off is narrowing the gap. Exxon's valuation is now just $14 billion below Apple's.
---
Following Apple's earnings report,
a slew of Wall Street analysts swiftly downgraded the company's stock
. Analysts at RBC. Deutsche Bank, Oppenheimer, Jefferies, Scotia Capital and Morgan Stanley all lowered their price targets. However, the lowered price targets between $500 and $625 are still higher than Apple's current level.
Morgan Stanley also removed the stock from its best ideas list
.