From InformationWeek
The smartphone has too many shortcomings and users are better off waiting until Apple releases the next generation model later this year, according to the venerable consumer magazine.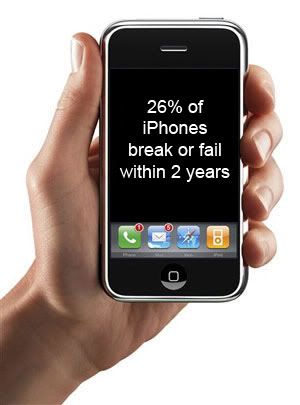 Consumer Reports is advising people to

hold off buying the iPhone 4

from Verizon Wireless next month, saying the device they'll be getting is a middle-aged smartphone that Apple will likely replace in the summer with a new generation.
The well-respected nonprofit magazine says that in the die-young world of smartphones, the iPhone 4 is already less than the cutting edge. Examples cited include its inability to run on fourth-generation data networks, including Verizon's; and its 3.5-inch screen in an era where a number of smartphones are shipping with 4-inch-plus displays.
Verizon announced this week that it would offer the iPhone 4 to existing customers Feb. 3 and to new customers a week later. That's only a few months before Apple typically releases the next generation of the smartphone, usually in June or July. "This is a transitional phone to tide Verizon through until the summer," Consumer Reports said Tuesday in its Electronics Blog.
The magazine's concerns are worth noting, because buying an iPhone at a carrier's discounted price starting at $199 requires signing a two-year service contract. Breaking the pact by trading in the phone early carries hefty penalties.
Consumer Reports notes that Verizon's customer satisfaction ratings are much higher than AT&T's, while also pointing out shortcomings in Verizon's network. Verizon's CDMA network doesn't allow someone to make a phone call while accessing the Web at the same time. In addition, AT&T's GSM phones can roam with relative ease in much of the world, while CDMA phones can't.
See more at: http://bit.ly/ijjBtu
Good for Consumer Reports for sticking to their guns.